Greeting
Since July 2014, we have developed innovative photocatalytic products in Brunei under the support of Brunei Government based on the latest Japanese technology.
Dr. Toru Kitamura, our chief researcher, is pioneer of photocatalyst technology in Japan who was featured by Nikkei Architecture, NHK, and Japanese newspaper. Moreover, his technology has been used in Universities, companies, laboratories, buildings, stations, stadiums and public facilities in Japan. In 2013, he also joined an India Project to develop photocatalytic-coating for telecommunication station by NEDO (New Energy and Industrial Technology Development Organization).
Through these experiences, now we are able to apply our new technology developed in Brunei for "the cathodic protection system to apply for the ground facilities". Furthermore, we have made "Anti-mold photocatalytic coating" for protecting facilities from mold and moss in specific environment and "Concrete photocatalytic coating" which maintains general concrete structures are kept clean for long term.
We have been successful to develop the world's first photocatalytic products one after another, applying them to public facilities and also major industrial facilities.
Since our company is located at the University of Brunei Darussalam, surrounded by ASEAN region, we can easy research and develop the appropriate products for ASEAN and the Middle east countries due to a remarkable growth in population and a large-scale market.
With R&D now being completed we are ready to the start a new company while receiving strong support through the Brunei Government. We would appreciate your cooperation.
OKOCHI HIROSHI
Representative Director
[Career of Representative Director]
Birthday: Birth 23rd March 1967
-Feb 2015 :Registered Smart Coating Technologies (B) Sdn Bhd
-Mar 2014 :Advisor to President of Brunei National Badminton Association
-Dec 2013 :International Commissioner, Nippon Badminton Association
-Dec 2013 :Personal Advisor to the President for Brunei Affairs,
Economic Research Institute for ASEAN and EAST Asia (ERIA)
-Aug 2013 :Resigned Ministry of Economy, Trade and Industry (METI)
-July, 2010 :Information and Communication Electronics Division, METI
-Aug, 2005 – Jul, 2010   : Embassy of Japan in Brunei Darussalam, Ministry of Foreign Affairs (MOFA)
-Jun, 2003 – Aug, 2005  : Coal Division, METI
-Sep, 2000 – Jun, 2003  : Security Export Licensing Division, METI
-Sep, 1999 – Aug, 2000 : Vanderbilt University in the U.S
-Apr, 1996 – Aug, 1999  : Information-Technology Promotion Agency (IPA)
-Apr, 1994 – Mar, 1996   : Inspection of Security Export Control Division, METI
-Apr, 1992 – Mar, 1994   : Information Control Division, METI
-Apr, 1992 :Entered Japanese Government of Ministry of Economy, Trade and Industry (METI)
▶︎Publish
"Badminton, Writing"
2015.1.20 The Japan news Daily YOMIURI 2page

▶︎Lecturer at Class on Cross-cultural Communicationsince 2015 and Seminar
-2015.05.19 Lecturer for class in RIKKYO University, Under Graduate
-2015.05.19 Speaker at Seminar in RIKKYO University
-2015.05.28 Speaker at Seminar in OSAKA University
-2015.10.20 Speaker at Seminar in RITSUMEIKAN University
-2015.10.21 Speaker at Seminar in HIROSHIMA University
-2015.10.30 Speaker at Seminar in TOKYO University
-2016.2.05 Speaker at Business Seminar in Bangkok under Ricoh Thailand for Japanese companies
▶︎Contribution
– Supported Plan for 30th Anniversary Memorial coin issuing both Ministry of Finance between Japan and Brunei,
April 2014 issued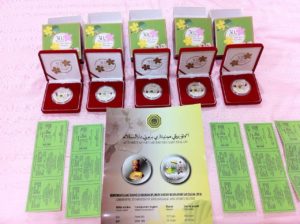 – Supplied Badminton professional training at NTT EAST, Japan for Brunei National Player,
From September 2014 to January 2015

– Participated Private Sector as representative from Brunei to the Meeting at the ASEAN JAPAN Economic Minister Meeting in Myanmar, September 2014